Physician Training and Grants
Minnesota Lyme Association provides the opportunity for up to $2500 reimbursement for fees and expenses related to ILADS annual training and individual clinical preceptorships.
Healthcare practitioners who are able to prescribe pharmaceuticals, who understand that Lyme disease is a clinical diagnosis, who are willing to accept new Lyme patients and who recognize that tick-borne diseases produce a variety of symptoms and secondary conditions requiring individualized treatment regimens are encouraged to apply.
To qualify for an ILADS training program scholarship,  healthcare practitioners must meet the following criteria:
Accepted into ILADS/TTC Physician Training Program.
Application and details about the program can be obtained from ILADS website: www.ilads.org
Practice in Minnesota
Ablility to prescribe pharmaceuticals
Interview with MLA board members and MLA medical advisor
Attend a CME course on Lyme Disease treatment offered by MLA medical advisor, Dr. Elizabeth Maloney.
Complete ILADS training within 6 months of scholarship acceptance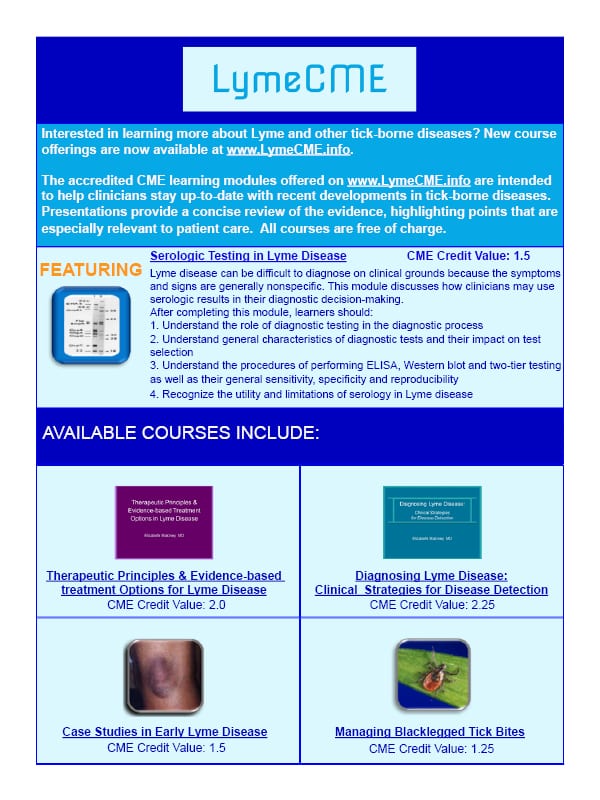 Physician CME Modules
The accredited CME learning modules offered on lymecme.info are intended to help clinicians stay up to date with recent developments in this field. Presentations provide a concise review of the evidence, highlighting points that are especially relevant to patient care.
Tick-borne Diseases
Tick-borne diseases are increasingly important public health problems as case numbers and the list of identified pathogens continue to grow. A recently published retrospective study on the medical costs associated with Lyme disease suggests that $0.7 -1.3 billion is spent annually in the US to pay for direct medical costs related to the illness. The scientific understanding of these pathogens, their vectors, and the illnesses they produce continues to evolve.
ILADS Physician Training
The ILADEF Physician Training Program, a groundbreaking project vital to fostering excellence in care for Lyme disease patients, directly addresses challenges in properly diagnosing and treating Lyme and other tickborne diseases.
Upcoming ILADS Conferences
Conference joins a series of intellectually stimulating events whose focus is educating medical professionals about the proper diagnosis and treatment of Lyme disease.